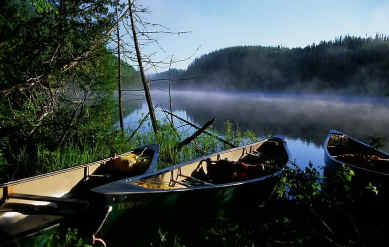 This is the story of a canoe expedition to Canada, undertaken by Herts & Bucks Wing ATC in July 2000 to mark the millennium. The purpose of the trip was simple: to complete a self-contained journey by canoe through the wilderness of Northern Ontario, following routes first used by the Voyageurs and fur trappers in the 17th and 18th Centuries. But there was more to it than that...
If we simply wanted to paddle down a river, we could have gone to a specialist adventure holiday company or employed a professional guide, but we were determined to build our expedition team from scratch, including staff and cadets with a wide range of ages and levels of experience from within the Wing. We would plan and organise every aspect of the expedition ourselves, make all our own decisions and, once in Canada, be completely self-sufficient for the duration of the journey. Accommodation, food, equipment and supplies would be limited to whatever we could carry, catch or improvise. Where there was navigable water, we would carry everything in our boats. Where there wasnít, we would carry everything and our boats by hand
The real challenge then, was to turn a group of air cadets and staff from Hertfordshire and Buckinghamshire into an expedition team capable of living together for three weeks, in arduous and uncomfortable conditions far from the conveniences of home. We knew this would push to the limit every team memberís commitment, fitness, self-discipline, teamwork, leadership skills and sense of humour Ö and so it proved!
In the end, we succeeded at meeting every one of our objectives. This site explains how the expedition was initiated and built, describes the training and preparation, provides team membersí accounts of the journey, and tries to describe in words and pictures just what the trip was all about