Planning the expedition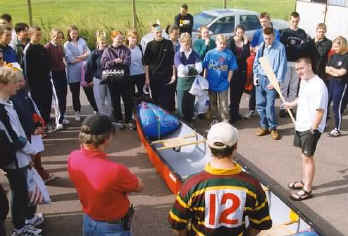 We knew our plan was feasible, Now we had to establish whether we could raise a team from within Herts and Bucks Wing.
Information was sent to every unit in the Wing early in 1998 inviting interested staff and cadets to a series of open meetings, and we held a number of all-comers training sessions on the Thames and in North Wales
At these sessions, we provided basic open canoe training, explained our plans in detail, and took the names and contact details of everyone who expressed an interest. By the end of 1998 the list included more than 40 people from 12 units, so we knew the expedition was viable.
At the same time we had plenty of work to do on the practical aspects, including:
selecting a route
choosing the dates
estimating costs of flights and in-country expenses
assessing risk levels
obtaining approval from HQ Air Cadets
staff training to ensure that first aid and canoe instructor qualifications were brought up to date
Click on Timeline for a summary of the timetable, and to see details of the main communications with Squadrons and team members during this period. A key document was a training plan issued in March 1999, and it didn't take many training sessions to confirm that we had a dedicated core of cadets and staff who were committed to the trip, and prepared to raise the necessary funds
One concern was how we would select people if too many people wanted to go. We thought out some selection criteria which took into account ability, fitness, number of training sessions attended and temperament, but were pleased that we never had to invoke them. Every cadet in the training squad who wanted to go (and could raise the money) went to Canada
Another potential issue was how to decide on pairings for canoes and groupings for tents. Again, this turned out not to be a problem, as the cadets spontaneously decided on the pairings themselves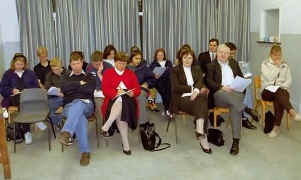 During the final 6 months, we held several meetings with parents to brief them on the trip and answer any questions or concerns that they might have.
They were as excited about the trip as their sons and daughters, and some of them would have liked to join us!