Training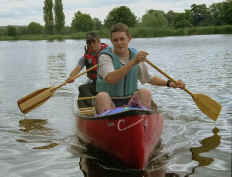 With the prospect of three unsupported weeks in the wilderness, we were not prepared to take anyone on the trip – staff or cadet – who did not have the necessary knowledge and skills to cope. It was also very important for team members to spend as much time as possible together to assess how people would get on together, and to prevent any serious personality clashes from disrupting the expedition.
The scope and strategy for cadet training was set out in a training plan which was distributed in March 1999 to everyone who had shown any interest in the expedition. This left us a little over a year to complete the training, so would require commitment by anyone wanting to go. The benefit of the training was certainly felt in Canada, where we were well prepared for every situation that we encountered
The staff training plan had a different objective. We already knew each other very well, having spent many days together on the hill, on the water and on expeditions. Six of us had spent a month together on expedition in the Himalaya, in 1991, so we knew we had people with the skills, experience and temperament for the leadership, camping and expedition aspects of the trip.
Some of these instructors also had plenty of canoeing expertise and teaching experience, but training would be needed to gain formal qualifications as open canoe coaches for three reasons:
1. to improve coaching skills, and ensure that the rest of the team would be taught effectively

2. to improve knowledge of safety and rescue techniques

3. to attain the standard required by HQ Air Cadets at RAF Cranwell before they could approve the expedition
For an account of the training needed to gain the open canoe qualifications and the process for gaining HQ Air Cadets approval, click here.
While we were training we were also thinking about the clothing and equipment that we would need on the expedition. It was essential to take only what we would need, and we wouldn't have the luxury of taking extra stuff "just in case". In fact very little specialist equipment needed to be obtained by individual team members, as shown on the equipment list supplied to team members