In the beginning...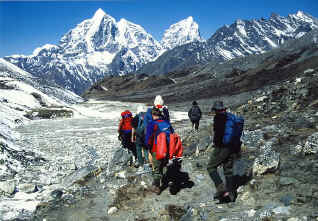 Where shall we go next?
This question had been asked hundreds of times since the Herts & Bucks Wing Adventure Training Group (HBWATG) returned from its first big international expedition to the Himalaya, in 1991. Despite maintaining a heavy annual programme of mountaineering and canoeing courses in Wales, the Lake District, on the River Wye and in France there was a strong feeling that we wanted to do another "big trip". But what sort of trip? And where?
Many ideas were discussed until, about four years ago, we found ourselves talking seriously about a canoe journey through an area of true wilderness. At the time, the group was running more mountaineering than canoeing activities, and this would be a good opportunity to raise the profile of canoeing within the wing. Various locations were considered, but we knew from past experience the value of having first hand knowledge of our intended destination during the planning stages, so we needed to find a local contact
Many of our courses are run from our base at Llanbedr, where we work closely with Barry Ellis, the chief instructor at the Corps Adventure Training Centre. Barry knows our group well, having accompanied us to Nepal in 1991, and he introduced us to Duncan Mackay who he had known since they were at school together. Duncan lives in Northern Ontario, where he has worked for many years with the Ministry of Natural Resources. We made contact, and Duncan was very keen not only to help, but to accompany us on the expedition. We had our contact in Canada.
For details of how we set up the expedition and built the team, click on Planning. Click on Training to see how we trained and prepared for the expedition and on Canada to find out how the expedition went